Do You Have An Insulation Project We Can Help With?
Insulation is the most effective way to improve the energy efficiency of a home.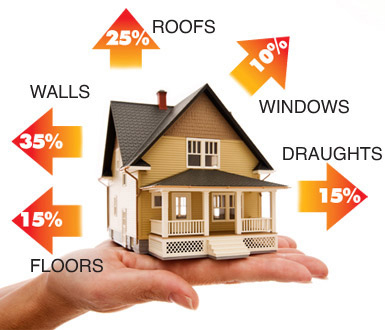 Insulation can save you up to one third in heat.
If your home isn't energy efficient and properly insulated you could be wasting a lot of energy and a lot of money.
For example in a home which has no or poor insulation around 60% of the heat will be lost through the walls and roof!
It will decrease your utility bills and heating costs.
It reduces your carbon footprint by using less fossil fuels.
Insulation increases the comfort of your home
Insulation assists greatly in keeping heat within a building in winter and slowing the flow of heat into the building in summer. An insulated building will therefore be warmer in winter and cooler in summer, creating a more comfortable environment all year round.
Improving your home's "Building Energy Rating" increases the value of your property
There are insulation options available to suit all types of home regardless of the age of the building.
The availability of Government Grants through the SEAI is an option that may be available to you.
The obvious health benefits of having a warmer more comfortable home speak for themselves.
Most installation procedures are fast and easily completed with the majority of them taking less than a day to complete but last a lifetime for your home.
To get your free quotation from C & W Insulation ltd please fill in your details below and we will have someone contact you to organise a free survey
or don't hesitate to ring the office for more information on our services